Welcome to Cooking Classes in Provence

Enjoy a Private Cooking class in Provence with Chef Clément, probably the Mostly Enjoyable Experience of your vacation.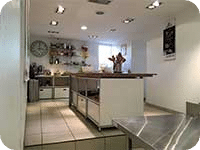 Private Cooking Classes in 2 workshops
Enjoy a private Cooking Class in Aix-en-Provence or Éguilles (10 minutes drive from Aix)
Private Cooking Classes in 2 workshops
With "L'Atelier Culinarion" in Aix and "La Fabbrik du Goût" in Éguilles, you will benefit from an unforgettable private cooking class.

Travelers' Choice
Chef Clément, at your service since 2012! More than 250 positive reviews on Tripadvisor.
Travelers' Choice
They did a cooking class with Chef Clément and share their feelings with you.
Your comments are important and the Chef is delighted to hear about your experience.
In-Home Classes
Travel up to 130 Miles around Aix-en-Provence with its equipment to offer you a cooking class on your rental or air bnb.
In-Home Classes
The Chef comes to your home with the ingredients and the necessary equipment.
Take advantage of a tailor-made and friendly workshop without having to travel.
After being trained for 5 years at the Marseille cooking school, Chef Clément created his cooking classes in Provence company in 2012.
Passionate about sharing and teaching, he was the first to offer cooking classes to home in Aix-en-Provence before becoming a chef in several workshops. He began by offering cooking classes to a French clientele around various themes such as traditional pastry, local cuisine and world cuisine. Then, he developed his offer for you, in English, around French, traditional and Provençal cuisine.
Cooking class in Provence with 2 formulas
In-Home cooking classes can take place in Provence-Alpes-Côte d'Azur up to 130 miles around Aix-en-Provence in your Air Bnb rentals or home: Aix-en-Provence, Marseille, Avignon, Monaco , Cannes, Nice, Saint-Tropez, Toulon, Montpellier, Nîmes, Arles…
About cooking classes in workshops, he only offers private cooking lessons in 2 cooking schools; in partnership with :
Discover its various cooking class offers by browsing its website. You will enjoy an exclusive and unforgettable private chef service.

Cooking Classes in Provence ; Hands-on Workshops for all tastes and ages.
You will be able to choose the recipes of your workshop or follow my proposal. We will create together a tailor-made workshop. The idea is to arrive at the most important, your complete satisfaction.
Good Atmosphere, Good Mood, Good Recipes.
Spend an unforgettable time thanks to Chef Clément. During your stay in Provence or simply to learn new recipes in your home, Clément will do its utmost to best meet your expectations. His goal ? To live, with you, an exceptional experience. Book now your Cooking Classes in Provence.
My name is Clément TOMASELLA but I am better known as Chef Clément. I am 31 years old. Born in Périgueux (Near Bordeaux) with Italian origins, I started to cook at an early age when I looked at my mother in the kitchen. I arrived in Provence in year 2000 and I live now in Pertuis next to Aix-en-Provence. I created my company in 2012 after 5 years of studies at the hotel and catering school of Marseille.
As a result, I was the first to offer in-home cooking classes in Provence near Aix-en-Provence. Since that day, I offer in-home cooking classes but I am also a chef at "L'Atelier Culinarion" in Aix-en-Provence and "La Fabbrik du Goût" in Éguilles.
Also, I created my online cooking school called Visiochef before the Covid Pandemic, which is now #1 in France for the "Online cooking classes" request.
I am someone passionate about my job ; passionate about food ; Passionate about life ; Passionate about the people around me. I am looking forward to meeting you around a culinary workshop.