Learn more about Chef Clément
From a very young age, Chef Clément (Clément is his first name) has been immersed in good food and French culinary traditions.
It is undoubtedly thanks to his mother that he began to develop a passion for cooking: no frozen meals at home, generous family cooking, and his hands in the kitchen from an early age.
It was in the Périgord that he was born (geese, ducks, foie gras, farm inns..), in Périgueux to be exact (near Bordeaux). It is certainly these incredible culinary experiences that put her on the path to this profession a few years later; he was already very gourmet. And perhaps also its Italian origins, close to Venice, have something to do with it.
Following a job transfer from his father, he arrived in Aix-en-Provence in year 2000 when he was only 9 years old. His passion for cooking grew stronger and at the age of 14, following his classical college course, he went to the Marseille cooking school to follow a 5-year training course.
One thing was certain at the end of his training, he was still passionate about cooking, passionate about meeting people, passionate about sharing, but there was one thing he did not like about this job: being locked up in a restaurant kitchen without any customer contact with finally a certain routine that would settle.
Then comes the idea of cooking classes.
In 2011, at the end of his professional training, he decided to start thinking about developing a cooking class activity. Because it finally corresponded to everything he was looking for: Work in complete autonomy / Sharing and meetings / No routine / No development limits.
Creation of the Chef Clément company
In 2012, it was therefore the first to offer in-home cooking classes in French near Aix-en-Provence. At the same time, he creates and develops cooking blogs and cooking videos with his french Youtube channel, almost 2 million views at this day. He also exceeds 200,000 subscribers on his facebook page, now less updated.
He was able to establish partnerships with several major brands: Kenwood, Ooni, Cuisines Pyram, Alfapac. He also became chef demonstrator for a few years for the very famous brands Wusthof, Emile Henry, Scanpan, Bamix and Mastrad.
After 2 years, he manages to obtain a loyal clientele which grows year after year. He is proud of not having just one specialty: he likes local and Provencal cuisine, local cuisine, traditional French pastry, but he also loves to turn to world cuisine, rich in flavors and spices.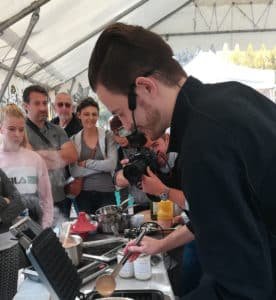 In 2013, in partnership with L'Atelier Culinarion in Aix-en-Provence, he became a chef and began offering collective cooking classes in French. Today, he privatizes the space for private lessons only; indeed, the managers no longer had the time to organize group lessons in this space.
From 2016 to 2022, he joined the team of Chefs of L'Atelier Peyrollais, in partnership with the manager Thomas, in Peyrolles-en-Provence until his move in April 2022 to the town of Éguilles with the objective of get closer to the city of Aix-en-Provence. In April 2022, L'Atelier Peyrollais will be transformed into La Fabbrik du Goût and is now waiting for you for your private cooking class in a modern and professional space.

In 2019, a few months before the Covid pandemic, he exceeded 5000 students participating in his workshops and passionate about video, launched his online cooking school called Visiochef. In 2 years, Visiochef has become a benchmark for on-demand videoconference cooking classes; No. 2 in France for the "online cooking class" request.
He is now looking forward to sharing his passion a little more with you, to sharing his know-how thanks to this hands-on cooking class.
In order to organize your cooking class in the best conditions, do not hesitate to contact the chef well in advance in order to be able to reserve a date; her calendar fills up very quickly throughout the year.
The Chef tries to adapt to all situations; tell him about your expectations.