Discover the Flavors of Aix-en-Provence Through Cooking Classes and Local Experiences
Immerse yourself in Aix-en-Provence's rich culinary scene with cooking classes, market tours, and more. Explore the city's vibrant food culture and must-visit attractions.
Cooking School in Aix-en-Provence

Your private cooking class will take place at L'Atelier Culinarion located at 52 rue des Cordeliers 13100 Aix en Provence (GPS Points : 43.529632411227794, 5.445832332567261).
No group lessons are offered on this workshop.


L
'Atelier Culinarion is located in the heart of Aix-en-Provence, a 2-minute walk from the main market and the town hall.
It is located Rue des Cordeliers, but be careful, do not confuse it with the shop of the same name "Culinarion" located a little further down the street.
The shop owners created L'Atelier Culinarion after Culinarion to extend the experience
with personalized cooking lessons
.
Chef Clément is only the main chef, the workshop does not belong to him, he privatizes the space for your cooking class in Aix-en-Provence.

The meeting time is generally at 9:00 am if you want the market tour or at 9:30 am without the market tour.
The price is the same with or without the market tour (It is a free option).
Choose the best products around local producers
Market Tour in Aix-en-Provence
Take advantage of a private 20-minute tour with Chef Clément to buy the fruits and vegetables needed to prepare your meal. All other necessary ingredients will have been purchased in advance by the Chef (Meat, fish, grocery…).
When you will be back from the market around 9:30 a.m., Chef Clément will offer you coffee or tea and explain how the workshop works. He will guide you for 2h30 to 3h00 in the realization of the recipes.
Finally, he will provide table service for you around 12:00 p.m. – 12:30 p.m. so that you can enjoy your lunch, the tasting time to be expected on site is approximately 45 minutes to 1:00 a.m. The end of the service will therefore be around 1:00 p.m. to 2:00 p.m.
At L'Atelier Culinarion, you can also choose a pastry workshop without a market tour of 3 hours with Chef Clément or, depending on your organization, a cooking class in the afternoon followed by dinner (without a market tour as well).
Chef Clément's advice for visiting Aix en Provence
Cooking Classes in Aix-en-Provence: A Culinary Journey Through the Heart of Provence
The beautiful city of Aix-en-Provence, nestled in the picturesque region of southern France, is renowned for its rich culinary heritage and vibrant food culture. If you're looking to immerse yourself in the flavors of this charming city, taking a cooking class is the perfect way to discover and savor the unique tastes of the region.
The Cooking Class Offer in Aix-en-Provence
In Aix-en-Provence, you'll find an array of cooking classes catering to different interests, skill levels, and group sizes. There are options for both collective workshops held at professional cooking schools and more intimate, home-based classes. For example, if you're renting a holiday home or an apartment, a private chef can provide a tailored, hands-on experience right in the comfort of your accommodation.
Many cooking classes in Aix-en-Provence offer unique culinary experiences, such as wine pairing sessions, pastry-making workshops, or classes focused on a specific regional cuisine. Whether you're a seasoned home cook or a beginner looking to expand your culinary horizons, there's a cooking class tailored to your needs.
Why Take a Cooking Class in Aix-en-Provence?
There are several compelling reasons to embark on a culinary adventure in Aix-en-Provence:
Expand your cooking skills: By taking a cooking class, you'll learn new techniques and gain confidence in the kitchen. The hands-on nature of the classes allows you to practice and refine your skills under the guidance of expert chefs.
Discover local ingredients and flavors: Aix-en-Provence is a treasure trove of unique ingredients and traditional recipes. By learning about the region's culinary heritage, you'll gain a deeper appreciation for its flavors and develop a more discerning palate.
Connect with local culture: Food is a universal language, and there's no better way to understand a place than through its cuisine. By participating in a cooking class, you'll have the opportunity to learn about the history, traditions, and people behind the dishes that make Aix-en-Provence such a special place.
What Can You Learn During a Cooking Class in Aix-en-Provence?
Cooking classes in Aix-en-Provence cover a wide range of topics, giving you the opportunity to delve into various aspects of the region's cuisine:
Traditional Provençal recipes: Master classic dishes, such as ratatouille, bouillabaisse, and aioli, which showcase the region's fresh produce, seafood, and herbs.
Modern interpretations of regional dishes: Learn how contemporary chefs are reimagining the flavors of Provence, creating innovative dishes that fuse tradition with modernity.
Pastry-making: Develop your skills in making delicious French pastries, such as tarts, éclairs, and the famed Calissons d'Aix.
Specialty workshops: Some classes focus on specific culinary themes, like cheese making, vegetarian cuisine, or mastering the art of the perfect soufflé.
Culinary Specialties of Aix-en-Provence
The culinary scene in Aix-en-Provence is characterized by its focus on fresh, local ingredients and time-honored recipes. Some of the city's most iconic specialties include:
Calissons: These sweet almond-based confections, often topped with a thin layer of royal icing, are a symbol of Aix-en-Provence's rich confectionery tradition. The delicate combination of ground almonds, candied fruits, and orange blossom water creates a unique taste that has been enjoyed for centuries.
Tapenade: This flavorful olive-based spread, made with capers, anchovies, and garlic, is a staple in Provençal cuisine. Tapenade can be enjoyed as a dip, a spread on crusty bread, or as a flavorful addition to various dishes.
Herbs of Provence: Aromatic herbs such as thyme, rosemary, oregano, and marjoram play a significant role in the region's cuisine. They add depth and character to dishes, infusing them with the essence of the sun-soaked Provençal landscape.
Olive oil: A cornerstone of Mediterranean cuisine, the olive oil produced in Aix-en-Provence is known for its exceptional quality. It's used generously in many dishes, adding richness and flavor while showcasing the region's superb olives.
Bouillabaisse: This traditional fish stew, originating from the nearby port city of Marseille, is a Provençal classic. A variety of fish and shellfish are simmered in a rich broth made with tomatoes, saffron, and an assortment of herbs and spices.
Ratatouille: This hearty vegetable dish features a medley of eggplant, zucchini, bell peppers, tomatoes, and onions, cooked with olive oil, garlic, and a blend of herbs. It's a true celebration of the abundant produce found in Aix-en-Provence.
Aioli: A delectable garlic mayonnaise that's often served with vegetables, fish, or meat. This versatile condiment is deeply rooted in Provençal culinary tradition.
By participating in a cooking class in Aix-en-Provence, you'll have the opportunity to learn about these specialties and many others, giving you a comprehensive understanding of the region's rich culinary heritage. The skills and knowledge you acquire during your culinary adventure will not only enhance your appreciation of Provençal cuisine but also enable you to recreate these delicious dishes at home, allowing you to share your newfound culinary prowess with friends and family.
Enhance Your Cooking Class with a Market Tour: Experience the Vibrant Food Scene of Aix-en-Provence
One of the best ways to elevate your cooking class experience is by embarking on a market tour before your lesson. Aix-en-Provence is known for its bustling markets, which offer a cornucopia of fresh, local produce, artisanal products, and vibrant street food.
Aix-en-Provence's Famous Markets
The city boasts a range of markets, each with its own unique charm and atmosphere. Aix-en-Provence's food market, a daily event, is a showcase of the region's culinary abundance. Here, you'll find everything from fresh fruits and vegetables to locally made cheeses, olives, and baked goods.
Aside from the food market, Aix-en-Provence also hosts several specialty markets throughout the week, such as the flower market, the antique market, and the textiles market, each offering a unique insight into the city's rich culture and traditions.
Benefits of a Market Tour Before Your Cooking Class
Exploring the markets of Aix-en-Provence before your cooking class offers several advantages:
Selection of the right products: A market tour allows you to learn firsthand about the ingredients that make up the backbone of Provençal cuisine. Your chef will guide you through the market, teaching you how to choose the freshest produce, the most fragrant herbs, and the best quality fish and meats for your dishes.
Getting to know the chef: Spending time at the market with your chef provides a unique opportunity to build a rapport and gain a better understanding of their approach to cooking, their culinary background, and their personal connection to the region.
Discovering hidden gems: As you wander through the bustling market, your chef will introduce you to lesser-known ingredients, specialty products, and the fascinating stories behind them. This will give you a deeper appreciation of the culinary tapestry that makes up Aix-en-Provence's food scene.
Meeting locals: The markets are a gathering place for the community, and a market tour gives you the chance to engage with locals who share your passion for food. Learn about their favorite recipes, their go-to vendors, and the seasonal ingredients that they can't wait to cook with.
By participating in a market tour, you'll gain valuable insights into Aix-en-Provence's food culture and culinary heritage, providing you with a solid foundation for your cooking class. The experience of visiting the markets and connecting with the people who bring these flavors to life will undoubtedly enhance your appreciation of the region's cuisine and leave you with memories that last a lifetime.
Discover Aix-en-Provence's Rich Heritage: Explore the City's Main Attractions
After enjoying a memorable cooking class and market tour, take the time to discover the many cultural treasures that Aix-en-Provence has to offer. The city's rich history, beautiful architecture, and charming streets make it a delight to explore.
Visit Cours Mirabeau
Cours Mirabeau is a grand, tree-lined avenue that serves as the heart of Aix-en-Provence. This elegant boulevard is lined with historical mansions, ornate fountains, and an array of cafes, shops, and restaurants. As you stroll along Cours Mirabeau, take in the picturesque views, vibrant street life, and the stunning architecture that defines this beloved thoroughfare.
Visit La Rotonde Fountain
At the western end of Cours Mirabeau, you'll find the iconic La Rotonde Fountain, a magnificent 19th-century monument that's considered a symbol of the city. The fountain features an impressive central column adorned with statues representing justice, agriculture, and the fine arts. The surrounding basin is decorated with statues of lions and swans, adding to the grandeur of this remarkable structure.
Visit the Paul Cézanne Studio
Aix-en-Provence is famously the birthplace of renowned post-impressionist painter Paul Cézanne. You can visit his former studio, which has been carefully preserved and converted into a museum. The Atelier de Cézanne offers a unique insight into the artist's life and work, allowing you to see the very space where he created some of his most famous masterpieces, such as the Montagne Sainte-Victoire series.
Visit the Granet Museum
The Granet Museum is one of Aix-en-Provence's premier cultural institutions, housing an impressive collection of artworks spanning from the Renaissance to modern times. Visitors can admire paintings by masters such as Rembrandt, Ingres, and Cézanne, as well as contemporary artists like Giacometti and Picasso. The museum's collection also includes sculptures, archaeological artifacts, and decorative art objects, offering a comprehensive view of the region's artistic heritage.
By exploring the main attractions of Aix-en-Provence, you'll gain a deep understanding of the city's rich history and cultural legacy. As you take in the beauty and charm of this captivating city, your appreciation for the culinary traditions you experienced during your cooking class and market tour will only be enhanced, making your time in Aix-en-Provence truly unforgettable.
Indulge in Aix-en-Provence's Finest Pastries: Visit the City's Best Pastry Shops
No trip to Aix-en-Provence would be complete without treating yourself to some of the city's mouthwatering pastries and confections. After a day spent exploring the city's attractions, stop by one of these renowned pastry shops to sample their exquisite creations.
Stopping at Béchard
Béchard is a legendary pastry shop situated on the Cours Mirabeau. This family-run establishment has been delighting locals and visitors alike since 1870 with its scrumptious pastries and desserts. Make sure to try their signature Tropezienne, a delicious brioche filled with a light cream, or sample one of their many other tempting treats.
Tasting Roy René Calissons
To experience a true taste of Aix-en-Provence, you must try the famous calissons from Roy René. This historic confectionery has been crafting these iconic sweets since 1920. Made from a delicate blend of finely ground almonds, candied fruits, and orange blossom water, these delightful treats are a must-try during your visit.
Tasting a Pastry at Maison Weibel
Maison Weibel is another beloved pastry shop that has been enchanting Aix-en-Provence for decades. Known for their artfully crafted pastries and confections, they offer a wide range of delectable delights to satisfy your sweet tooth. Indulge in a decadent chocolate éclair, a flaky mille-feuille, or a luscious fruit tart during your visit.
Your journey through the culinary landscape of Aix-en-Provence is an unforgettable experience, combining hands-on cooking classes, lively market tours, and the discovery of the city's rich heritage and finest pastries. As you immerse yourself in the flavors, traditions, and stories of this enchanting city, you'll come away with a newfound appreciation for its culinary treasures and the skills to recreate them at home. The memories of your time in Aix-en-Provence will undoubtedly inspire your own culinary creations for years to come, allowing you to share a taste of Provence with those around you.
It's not just a regular cooking class,

you can choose your menu.
In addition to enjoying a tour of the market to buy fruits and vegetables, you will be able to choose a unique and exclusive experience thanks to the choice of personalized menu.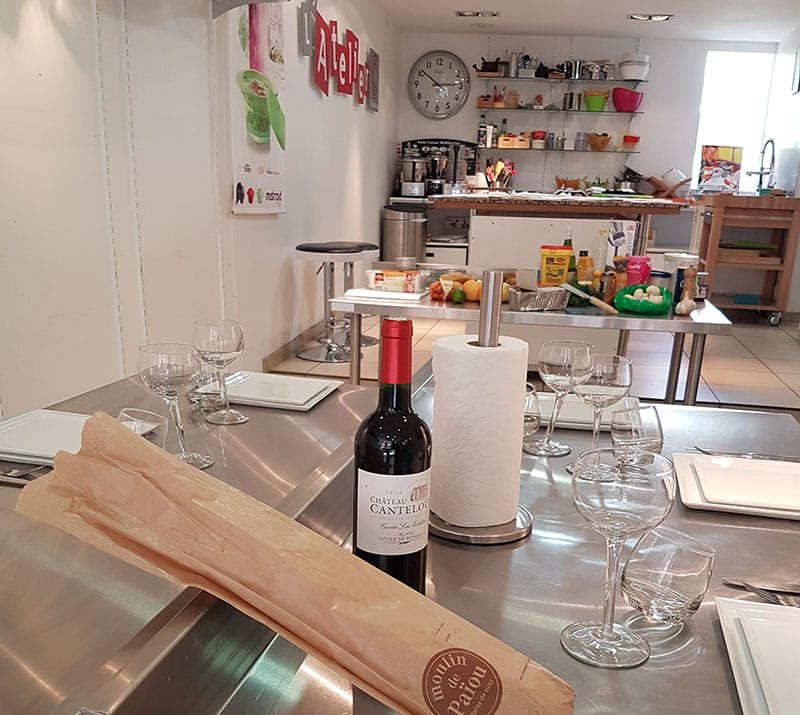 Workshop participants in Provence with Chef Clément

Maximum number of participants that can be accommodated at L'Atelier Culinarion
Average duration of the service (3 hours cooking class, 1 hour of tasting)